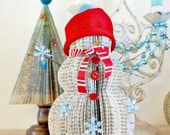 So yesterday I had a little tinseled garland out of vintage dictionary pages.
Today I wanted to show you a few more ideas. You can also check out my pinterest board Remaking the Book for more ideas of what other people have done. But here are some of mine....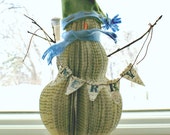 First, check out the SUPER cute little book paper snowmen!!!
My dad cut these out of Lemony Snicket books I found at the thrift store and then my mom took over and hot glued the spine to create a circle and then between each and every page so that they fan out. She has WAAAy more patience then me. Talk about tedious and man does it use up the glue sticks.
But as it was my mom and not me being tedious, I was lovin' them and had my dad cut eight more.

After she did the tedious part

,
I got in on the act and used the spine and cover of the book to made a little hat for it and a little nose. I was trying to reuse as much of the book as possible. We also added a little scarf and two little birch stick arms.
Then my mom had the
BRILLIANT but again tedious idea of adding a little mini banner
. So she punched out all those cute little triangles with a nifty little punch that she has. Next, she brushed on some glitter paint. I mean, these turned out SO DARN CUTE!!!! Can you believe it? I took the first nine and brought them into Art 2 Heart, where there are a few left should you want one. But THEN, can you believe it, she kept going and she went and made the cutest little trees for them as well. These were from book pages again
,
but she mounted them onto old candle holders for a truly sweet vintage look.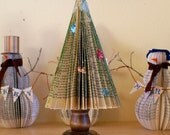 IF, you don't feel like rushing out and trying this out for yourself, my parents do have an etsy shop
,
The Old Shop Teacher,
where they are selling a few more of the snowmen and trees that they JUST finished. She made one with a little gnome hat, and another is looking debonair in a cap.
She got pretty creative- don't you think they are absolutely adorable???
I also made up a wire and paper tree that I couldn't wait to show you.
I saw one in a shop and completely unable to afford the $100+ price tag I went ahead and made my own version. I mean, it was wire- I felt I had to be able to figure it out or I couldn't claim to be a wire artist. I did figure it out, but it was another tedious project and for this one I was on my own. So I stayed up really late one night and made one. I am EXTREMELY happy with how it turned out,
and would you believe it's only my same old 16-gauge steel wire, some more dictionary pages, and a small wooden block?
The block I painted with gesso, wrapped with some patterned washi tape and then sealed it with medium.
The

star at the top and the

sweet little garland on the tree

are

vintage mother of pearl buttons. I have a quick little step out for you of that. I'll post that tomorrow. It's my 3 or 5 days of Christmas projects blitz- ENJOY!!!!!