What? Posting twice in one day? Am I mad? Maybe a little;)
But really it's a time thing. I just had to write and encourage you all to
celebrate May Day with your families this year
. Of course tomorrow being May 1st, I kind of ran out of time.
May Day is special and a holiday not every one celebrates.
My mother always made a point of making the day special for my brother and I growing up and now.
Tomorrow morning the May Day man will ring the doorbell and leave yummy chocolate and oatmeal drop cookies on our doorstep.
When I was young he left them in those little green plastic strawberry baskets that you used to buy berries in. He would ring the doorbell and run. A few minutes later my mom, a little out of breath would show up in the kitchen, conveniently near the patio door. It was something she always did for us. Yesterday I found out it was something her mother had begun doing for her and her sister.
It's a simple little thing that made the day unique so I want to encourage you to do something too.
Maybe you want to leave a posy for your neighbor, or even just set a dandelion on each breakfast plate.
Maybe you want to turn lunch into a picnic, or toss some strawberries into the orange juice. It's up to you. A sweet little note that says "happy May Day", or a May Day kiss on the cheek.
If however, you are interested in the May Day tradition as my family celebrates I'll post the recipe below. It's super yummy- I promise!
----------------------------------------------------------------------------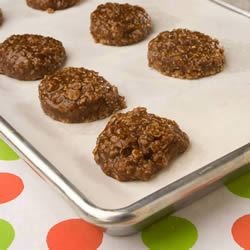 May
Day
Cookies
(cocoa and oatmeal drop cookies)
Mix together in a bowl and set aside:
3 cups oatmeal
1/2 cup coconut
In a small saucepan combine and bring to boil for one minute:
3 tbsp. cocoa
2 cups sugar
1/2 cup milk
1/4 lb. butter
Add to wet ingredients: 1 tsp. vanilla
Pour cocoa mixture over the oatmeal/coconut mixture. Mix together well. Drop onto waxed paper. Set aside to cool. Work rapidly before they harden. Be careful not to snitch until they've cooled somewhat or you risk burnt fingers!
Yields 20-30 cookies Yum!
(photo of cookies from AllRecipes.com- no photographer listed, photo of May Day celebration from photobucket posted by dymphnasis)